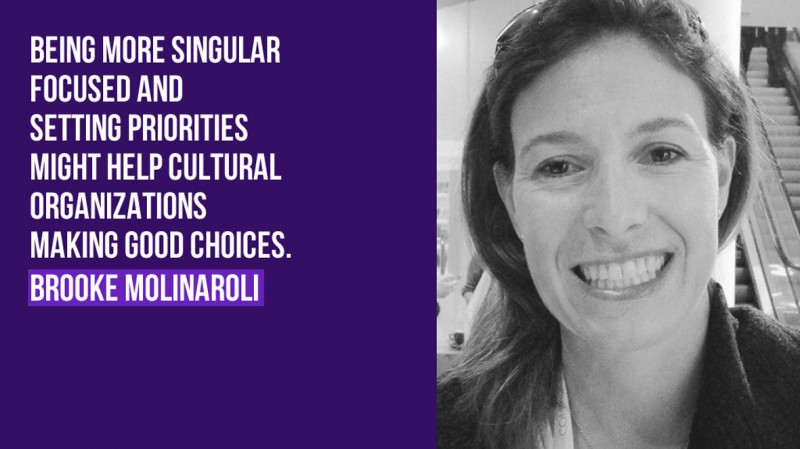 Brooke Molinaroli is passionate about transforming brands and the use of insight to deliver innovation in digital and social media. She worked in creative organizations in New York City, including The Pace Gallery, Ed Schlossberg's groundbreaking design firm, and Organic, one of the first web agencies. While living in London for many years, Brooke delivered authentic and personal customer service for British Telecom through the award-winning @btcare on Twitter and You Tube. Currently living in Dallas, Texas Brooke works at the Dallas Museum of Art (DMA) helping to transform the Museum around its new free general admission policy and the nation's first free museum membership program (DMA Friends).
I met Brooke in Sydney at the conference Communicating the Museum in November 2014 where she presented the project "Art Everywhere – The Largest Outdoor Art Show": Five major US museums—the Los Angeles County Museum of Art (LACMA), the Art Institute of Chicago, the Dallas Museum of Art, the Whitney Museum of American Art, and The National Gallery of Art, collaborated with the Outdoor Advertising Association of America (OAAA) on the initiative Art Everywhere US to transform billboards, bus shelters, subway platforms, airport dioramas, movie theaters and more into a free, open-air art gallery across the US in August 2014. Why do this? "This is an unconventional  program to promote museum experiences and to encourage the discovery of art history so it becomes part of everyday life." (Maxwell Anderson, Dallas Museum of Art)
 1. Brooke, you were part of the US-wide campaign Art Everywhere which transformed billboards into an open-air gallery. What was the major benefit of the project from your point of view?
Brooke Molinaroli: That's the big question! I think the most fascinating effect of the project was that the local community got very interested because the art was literally everywhere: it was not only on the billboards in all 50 states but also in the local papers, on the internet and in the social networks. For example people from Wisconsin reading the local paper discovered Georgia O'Keeffe or Frank Lloyd Wright as part of their community. By reading about the artists and artworks from their home state they were reflecting their own background and took a kind of pride in their state. So in the end they were actually learning about their history and culture.
2. At which place did you make your most amazing cultural experience which has influenced you strongly, and why did it influence you in such a way?
Brooke Molinaroli: I think it has to be when I visited the Centre Pompidou.  When I was 16 I was an exchange student in the South of France and we went to visit Paris. Seeing Centre Pompidou I was totally struck by the design of the building and modern design all around. It just seemed like nothing I had ever seen before and it sparked my interest in modern art and contemporary art in particular. At that point I realized contemporary art was a real love of mine.
3. What might be in your opinion the decisive factor for cultural institutions to survive within the next 50 years?
Brooke Molinaroli: I feel strongly it is about understanding your visitors in a way that is very deep and committed and that is performed throughout all departments in a museum. Corporations and commercial organizations have already figured out that customer focus is the starting point of developing great ideas.
Focusing on your customers makes you learn a lot about your products and allows you and your brand to connect with your target groups. Cultural organizations often seem to avoid that commitment and I am not sure why. But I think doing it could fundamentally change cultural institutions in a positive way.
4. On which art work or cultural experience would you spend much money?
Brooke Molinaroli: (Laughs) That's a hard one. I think I would spend money on experiences. Actually I am inspired by the workshop on the North Carolina Museum of Art we attended yesterday. They created a park and moved the museum into nature in order to engage new audiences in a culture highly marked by technology. In the park visitors can experience large concerts as well as intimate performances, they grow food and perform dinners, families can learn about nature and ecosystems.  It just blows your mind. It's immersive. I think I would spend money on experiences like this because they can bring art to people in a different way.
5. If you were granted one single wish. What would you change in the cultural system?
Brooke Molinaroli: My wish is linked to the inside of cultural organizations.  I think it might be very important for museums and other cultural institutions to pursue a more focused approach.
Being more singular focused and setting priorities might help cultural organizations making good choices. The way of working in culture often seems to be a loose collaboration of things and choices which should be improved especially as cultural organizations are completely different from corporate organizations which have access to a wider variety of resources and thus have a greater ability to conduct larger projects.
Regardless of available resources the hardest thing is choosing, i.e. understanding what the right choice is and taking the right option. If an organization decided on one out of ten things and everyone was committed to it there would be a more selected progress.
Thank you very much, Brooke!