Conference "Communicating the Museum" 2012, New York
The world is changing: how will museums adapt?
The world is changing and so is the way museums are marketing their exhibitions. Only a few years ago the marketing campaigns of Düsseldorf's Museum Kunstpalast were classical: posters, flyers and advertisements were the main instruments of promotion. Since then a lot has changed. New concepts and media are helping to advertise exhibitions, reaching new audiences and widening participation. Using several examples I presented at the conference Communicating the Museum in New York how Museum Kunstpalast has adapted to changing circumstances.
Museum Kunstpalast is a foundation which was opened in 2001 in the form of a public private partnership between the City of Düsseldorf and an energy company. The museum's strength is its unique structure in Germany: It shows more than 12 temporary exhibitions per year, houses a diverse permanent collection ranging from modern to old art as well as Europe's largest glass collection. Furthermore a concert hall is part of Museum Kunstpalast. Therefore it is not only a museum, but a cultural center. As far as the museum's building is concerned, the architecture is very intimidating which is not very helpful when one is trying to attract visitors.
To sum up: Museum Kunstpalast has many different activities and a huge intimidating building. And then there is also the challenge with a rapidly changing world. First there are challenges the cultural sector in general has been facing many years, such as how to stand out in a world of decreasing cultural budgets and mass advertising and of course the generation problem: 50% of Museum Kunstpalast's visitors are older than 60 years. And then there are of course more recent challenges: the world has become digital and people spend their time in social networks rather than in museums. And last but not least, museum visitors have become more demanding: they don't want to consume art and be part of an authorative system, they want to make special experiences by participating actively in art.
And here are a few of the projects I did at Museum Kunstpalast in response to all those challenges over the last few years:
Guerilla Marketing at Museum Kunstpalast: How to promote an unknown Swiss painter
One of our first marketing experiments was in 2009 on the occasion of the exhibition of an unknown Swiss Alpine painter named Caspar Wolf. We provided four students with professional mountain equipment and let them stroll around much frequented places such as shopping malls. From time to time they stopped and put up a tent in the middle of the pavement. Their clothes were branded with exhibition labels. People were very curious and loved the association. The cost for this campaign was basically nothing as the clothes were sponsored. That's how we got people's attention with the help of a guerilla campaign without having to spend much money.
httpv://www.youtube.com/watch?v=WQ0oqsmHg2s
At the same time we realized a further low budget guerilla campaign that made use of the billboards that were displayed for a federal election. We waited until the end of the election and simply pasted our own posters over the election billboards in the course of the night. Our posters were of course designed in the style of election posters and invited the people to elect the museum's exhibition. At daybreak the whole town was paved with our exhibition and we received many calls from visitors as well as from the political parties who really liked the idea. Even the press reported about it. Apart from printing cost there were no further spendings.
Involving people: what does abstract art has in common with graffiti, paintballs & co.
We made our first experiences with actively involving people within the frame of an exhibition dealing with abstract art in 2010. That's when we invited people to a graffiti contest and asked them to realize their own interpretation of the exhibition works on the fence of a temporary building site at our museum. In the end more than 40 people – among them artists, students from the art academy, graffiti sprayers – participated and made great experiences. And in the end we had an amazing fence. A jury elected a winner who got his own exhibition at a gallery for street art.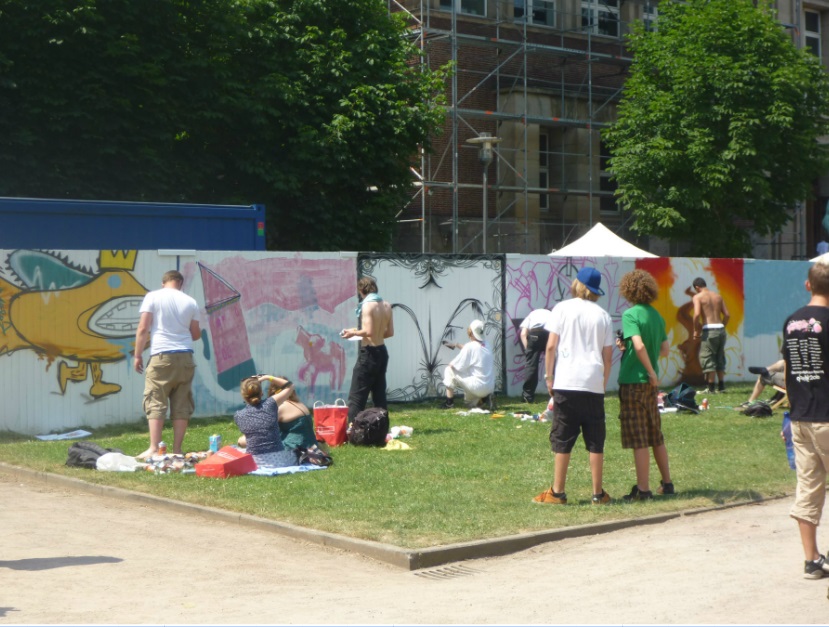 In addition to the graffiti contest we gave visitors the chance to create their own huge "Jackson Pollock" painting by using paintballs. 2.000 people took part and loved this collective experience.
ART SET(S) FREE! Art works promote themselves in public space

In order to call attention to the reopening of our collection in 2011 we developped the guerilla campaign ART SET(S) FREE! The campaign literally deliberated protagonists from the collection's works of art and placed them into the townscape. For 2 months 50 life-sized figures were daily distributed all over Düsseldorf in changing places as they were not permitted by the city authorities.
The life-sized figures carried the open spirit of the museum into town and inspired people to visit Museum Kunstpalast. They were supposed to overcome the physical barriers of the building and set free people's imagination. In the first two week 20.000 people visited the collection which was a huge success. Since we got a very good feedback from people who loved that surprising experience of art approaching them openly we made a similar project for the exhibition "Düsseldorf School of Painting" in the autumn of 2011. We distributed replicas of the exhibition works all over the town and went one step further by adding labels that provided background information on the art works and artists. So people had the possibility to extend their knowledge about art at places where they usually don't expect art.
Word of Mouth-campaign in honour of Nam June Paik at Museum Kunstpalast
In order to let the visitors participate in the retrospective of the video artist Nam June Paik in 2010 we launched an interactive video project called Paik TV in 2010. After pressing a button in a box resembling a photo booth visitors could record 30 second long individualized videos.
It was entirely up to the visitors what they wanted to say or do and some of them for instance made performances or criticized and praised the museum. Every day the recorded videos were made available on the museum's website as well as on YouTube and Facebook.
httpv://www.youtube.com/watch?v=FXzbs2wA0Fk
There they could be watched, linked and suggested to other friends. The creativity in the videos was great and everybody from children to older people participated in the project. It was for the first time that the museum gave its visitors a voice and we were overwhelmed by the positive reactions. Hundreds of videos with many helpful suggestions were produced. Apart from the participative factor the cost for this whole project was just the material.
It's not about having big budgets, it's about having good ideas.
Of course all these campaigns did not solve all the museum's problems at once, but we managed the budget challenge by focusing on guerilla marketing. That made us use our budgets more effectively while getting the maximum attention. While bringing art outside of the museum to unexpected places we managed to reach a different audience: the surveys show that the museum attracted more new visitors within the last years. And with projects that actively involved people we hopefully make them visit again our museum.
We all know that communication has changed a lot over a very short period of time. That's why I think that we need to be more adventurous and try new things in order to reach people. It's not only about having big budgets, it's about having good ideas.